Celebrating year one of Waterfowlers' Network
14th
September 2020
Like many other events this year, the annual meeting of Waterfowlers' Network was changed from a regular meeting in the Netherlands to an online event. Despite the practical challenges and lack of opportunity to meet up, the network managed to move on with some very important initiatives and decisions, continuing to shape the network and its areas of work.
By Jacob Munkholm Jensen & Iben Hove Sørensen, Waterfowlers' Network
Photo by Niklas Liljebäck, Svenska Jägareförbundet


The meeting took place on August 31st/September 1st 2020 and had 21 participants, representing each of the member organizations as well as AEWA, FACE, Wetlands International, Aarhus University and the Finnish Wildlife Agency.

A promising first year
Following a status from each member organization, summarizing the regional issues relating to management and hunting of waterfowl species, the WN-secretariat continued with a recap of the first year of Waterfowlers' Network.
Among the initiatives taken during the network's first year were meetings related to the creation of an internationally coordinated wing survey, wetland incentivizing and research projects on various waterbird species. Also, Waterfowlers' Network has been invited to participate in the AEWA Single Species Action Planning Workshop for the Common Eider.
All in all, despite the pandemic and all its limitations on our activities, the first year of Waterfowlers' Network has shown promising signs for the future.

A role for hunters
During the meeting, several agenda points revolved around the potential roles for hunters in the world of waterbird management and conservation – and there are several options.
The need for better data on hunting bags was emphasized, and identification tests were suggested for hunters who may have trouble knowing species from each other. Especially female ducks are difficult to identify, and a test may be a good way to improve identification skills.
Hunters can also help filling other knowledge gaps and funding or participating in habitat restoration in important breeding areas.
Matt Ellis, Head of science at BASC (UK), said:
Shooting across Europe needs to be sustainable. This means hunters need to continue to expand on delivering the habitat and conservation activities that many already undertake. We also need to make significant steps towards collecting bag returns that allow us to better understand the impact of our sport on wild bird populations.

Next steps
Some important outcomes of the meeting are now in the process of being formally described and adopted by the network members, including several project proposals, and sharing of best practice.
Claus Lind Christensen of the Danish Hunters' Association was elected chair, and he is looking forward to continuing the combined efforts of the NW European waterfowlers:
I believe very strongly in this initiative and its ability to strengthen our migratory bird populations over time. Growing waterbird populations will eventually mean more opportunities for sustainable waterfowling, so I encourage all hunters to cooperate across borders to protect and restore habitats and ensure that all hunting is sustainable, says Claus Lind Christensen.
Next meeting will also be held online, as it was agreed to arrange at least one online status meeting between the annual meetings. But in 2021, we sincerely hope that we will be able to accept the kind invitation from the Netherlands and enjoy a couple of days in each other's company.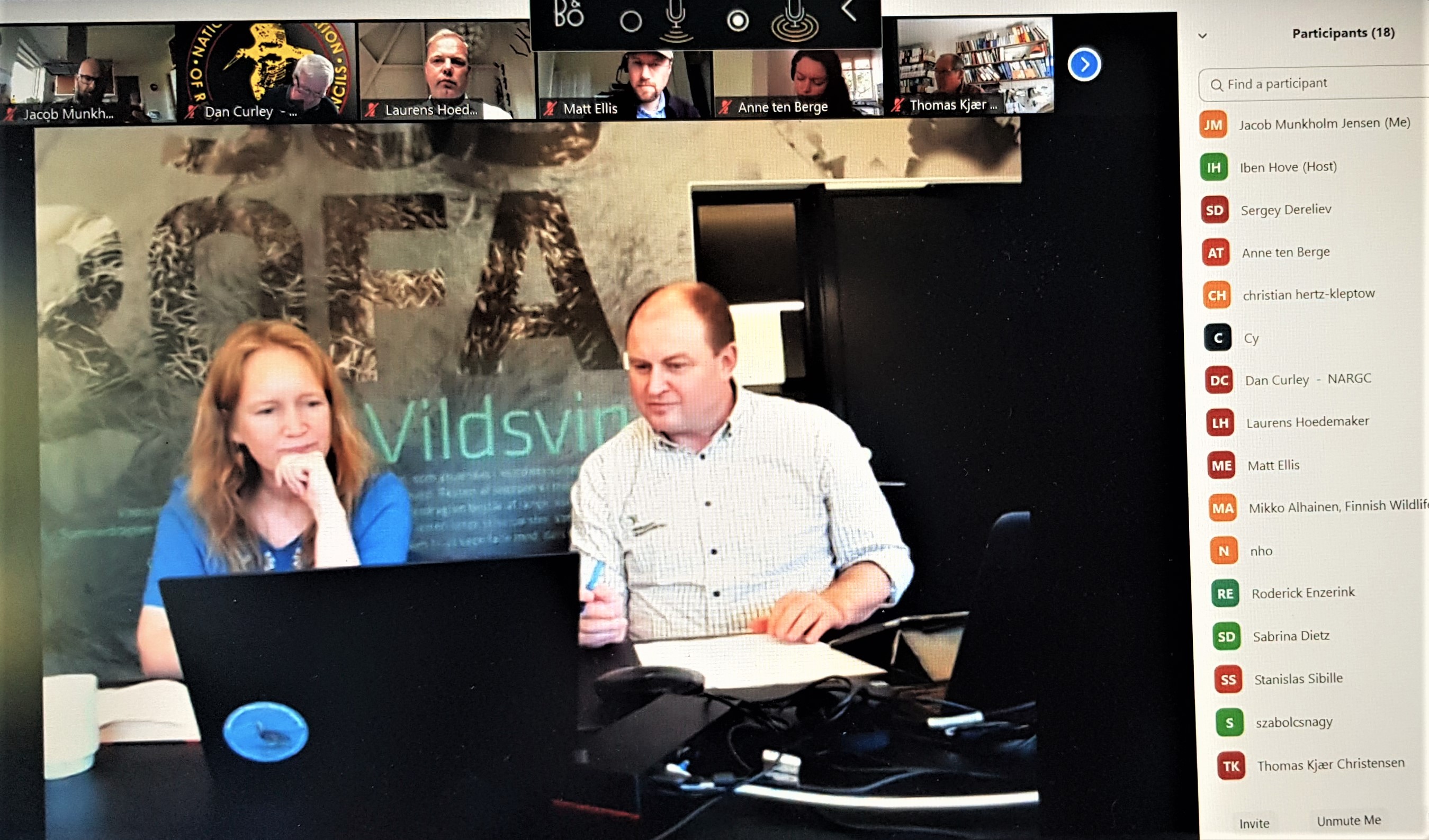 Main agenda points of the meeting:
Status update from all member organizations
Report from the secretariat
First steps towards an Action Plan for Pochard
Discussion of WN's potential role regarding current and future management and action plans for waterbirds
International wing survey – proposal and discussion of the way forward
Presentation of Dutch duck basket project
Presentation of Finnish wetland restoration project
WN's options for contributing to Finnish wetland restoration project
Project on Eurasian Wigeon