Ådans Vänner hosts international Eider workshop in Åland
14th
June 2023
Earlier this month, members of Waterfowlers' Network's Duck Nest Monitoring Project were invited to participate in an international Eider workshop held in Åland. The workshop included field visits as well as scientific discussions on Eider biology and management, and the participants also found time to enjoy the delicacies and stunning sceneries of the Åland Islands.
By Iben Hove Sørensen, Waterfowlers' Network
Photos by Niklas Liljebäck, Céline Arzel and Iben Hove Sørensen

On a sunny summer morning, participants from Sweden, Finland, Ireland and Denmark met up with the local hosts at the harbour in Mariehamn, capital of Åland. With the beautiful archipelago stretched out in front of us, we sailed towards the Eider colony at Båtskären in the SW Åland Archipelago.

Local management efforts
Since 2019, Ådans Vänner (Friends of the Eider) have been working to develop efficient management methods to improve Eider breeding success in the Åland Archipelago, and the colony at Båtskären is one of their focal sites. A guided afternoon tour took us around the colony and introduced the group to the local management efforts. 
Currently, the colony at Båtskären has Eider Guards on site 24/7 during the breeding season, and predation is limited as far as practically possible. Crows and eagles are generally chased away, wooden shelters hide the incubating females and eggs, and visitors are welcome - as long as visitors stay on the path, the breeding birds do not seem disturbed, whereas predators are inclined to avoid people.
Currently the island has no mammalian predators, yet constant efforts are necessary to keep invasive species such as Raccoon Dog and American Mink off the breeding sites. Otherwise all other efforts will be in vain.
Read more here: Improving Eider breeding succes in the Åland Islands
During the field visit, Lene Midtgaard (Danish Hunters' Association) gave a short introduction to the Duck Nest Monitoring Project of Waterfowlers' Network. All participants were encouraged to submit data on use and success of artificial duck nests via our online form. This may help us generate detailed, knowledge-based recommendations on the most suitable sites for structures such as Eider shelters.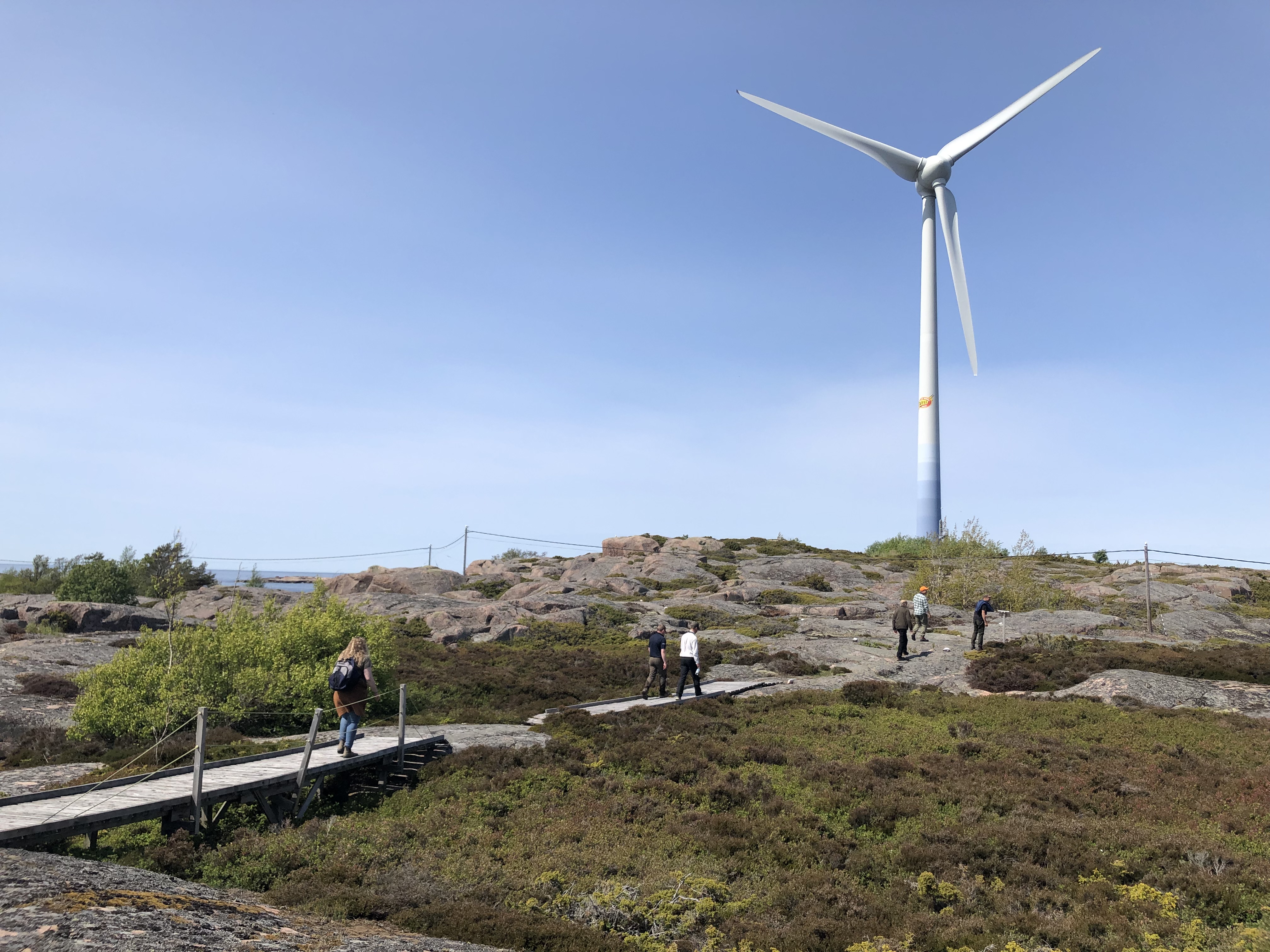 White-tailed Eagles causing concern
On the second day of the workshop, the group moved indoors at Silverskär for a series of presentations, starting with a status by Robin Juslin (Government of Åland) on the local Eider population and related management activities. Securing the breeding population at the important colony of Lågskär is a long-term priority, and significant efforts are carried out each year to keep the invasive alien species away from the core seaduck breeding areas.
As the local breeding population of White-tailed Eagle has risen dramatically and currently include more than 120 pairs, concerns for the breeding success of the Åland Eiders are growing. The diet of White-tailed Eagles is very diverse, but Eider ducklings appear to be among the eagles' favourite prey during late spring, and many of the ducklings are predated as they leave the colony.
This year, as a trial, a permit for shooting up to five subadult White-tailed Eagles under derogation was granted in cases of more than five individuals actively and simultaneously hunting Eider ducklings at the breeding colony on Lågskär.
During the trial period, three eagles were shot before the trial was called off due to an apparent outbreak of avian influenza among the breeding Eiders. However, a change in the behaviour of the young eagles was already showing, indicating that the derogation shooting actually served to lower their activity around the Eider colony.


Scientific collaboration
Céline Arzel (Turku University) went on to present the results of her studies on endocrine disrupting chemicals, including heavy metals such as lead, recorded in breeding Eider females, ducklings and eggs. Her main study area is situated in the Finnish Archipelago, but also includes samples from a range of other colonies and species. Several results will be published in the coming months, which will certainly be an interesting read (albeit slightly dire). 
Read more here: DISRUPT: Ducks as models for assessIng endocrine DISRUPTing chemicals in the aquatic environment.
Final presentation was by Niklas Liljebäck (The Swedish Association for Hunting and Wildlife Management) and Iben Hove Sørensen (Danish Hunters' Association) on the results of an on-going study of migration routes, breeding success and return rates of Common Eider, Velvet Scoter and Red-breasted Merganser breeding in the outer part of the Swedish Archipelago. Hopefully this study will expand in the future to include more sites; certainly all three species were present at the islands visited during this workshop.


Thank you
We wish to thank the organisers and all participants for taking part in this workshop. It was an excellent opportunity to build on existing networks and create new connections, and there is no doubt that we can all benefit from sharing experiences and results in the coming years.
A special thank you to Lucas Wideman for bringing us all together.
Read more about Ådans Vänner and follow the organisation on facebook.
Read more about Waterfowlers' Network's Duck Nest Monitoring Project.
Below a photo of the group visiting Åland.